As I smartly bid adieu to the Athens Happy Train the second time at two different places that moved in various areas of Athens,with popular Greek Frappe in one hand pointing towards the traditional Greek Woolen Slippers made from 100% natural sheep wool with Non Slip Leather Sole with another,I asked for the price.9 Euros was what she said.As every Asian who's not easily convinced with the price,I walked ahead to know if she would call my name for a lesser price.India for sure had mastered my skill on bargaining,while Greece remained firm with prices.
Traditional Greek Woolen Slippers
Frappe' Coffee has become a hallmark of the post-war outdoor Greek Coffee Culture
Frappe Coffee(also called Greek Frappe or Cafe Frappe) is a Greek foam covered iced coffee drink made from instant coffee . Accidentally invented in 1957 in the city of Thessaloniki,it is now the most popular coffee among the Greek Youth and foreign tourists.The word Frappe' in French comes from word Frapper which means to 'hit'.
The bottom of the Greek Woolen Slippers had 4 different layers to ensure comfort in walking.Every shop ahead had the same price.This was Plaka, a well - known market in Athens, a walking distance from my Athens Backpackers Hostel.
The Athens Happy Train
----
--
Had I not stayed longer in Athens,I would have missed patting my own back with my choice of hostels based on what I wanted or wished for,prompting me to stay at
City Circus
Monastiraki for longer because it was just close to everything - Shopping at one side - Acropolis on another.
Monastiraki Square
Believe me,while Plaka is popular with neat clean and narrow alleyways till the Acropolis,it is Monastraki which is the best place to shop.Areas around Monastiraki Metro Station(Square) are Pandrossou Street Market and Athens Flea Market.
Famous Shops in Athens for Souvenirs
Even if Athens is just a stopover for you,before you head to the islands,do make a trip down Monastiraki. Shopping in Greek islands is expensive and you get the same stuff as in Athens.I would still be discussing what extra do you get in Islands in my next post but for souvenirs and other small little Greek stuff,Athens should be.
Pandroussou Street Market
Pandroussou Street Market
I wonder how many of you go to a country with an aim of knowing a country on what people eat,what do they do,how things work,how they celebrate. Pandroussou Street Market would take you to everything local.Greek coffee inspired from Turkish coffee has a different way of brewing in sand.
Greek Coffee
or Ellinikos Kafes (also known as Turkish Coffee) is a method of preparing coffee.Roasted and then finely ground coffee beans are boiled in a pot(briki),usually with sugar,and served in a cup where the grounds are allowed to settle.At present,it is found in the Middle East,North Africa,the Caucasus,Bali and Eastern Europe.
A different way of making Cofee
Olives we all know are famous in Mediterranean and you get all Olive soaps,olive oils,olive body creams etc and etc for 1-5 euros.Ouzo definitely a must brought item from Greece because you get that only in Greece in bottles of 3-5-7-10 euros.
Right as you enter,you get gladiators(ladies sandals) which are very popular in Greece ranging from euro 5-15.You get Greek printed Tees starting from 5-8 euros.
Mastic is a resin popular in Greece with which liquor and cosmetics are made.Do get Mastic Spa cosmetics they are awesome.Mastika or Masticha is a liquor seasoned with mastic,a resin gathered from the mastic tree,a small evergreen tree native to the mediterranean region.
Mastika Drink
In the night,the street is lit up with musical performances and road side food and ice creams and dark beer and authentic Greek food.While we were there,as part of
TBEX
celebration,we witnessed Opera,Clay and Ceramic Jewelry Making Workshops.Otherwise too,its a buzzing market with lots of stuff happening everyday.
Local instruments made
Operas
Celebration
And pottery!
Athens Flea Market on the other hand is more vintage.You get all sorts of Military Apparels,Jackets,Backpacks,very old furniture,electronics,clocks,antiques,fruits and vegetables.
I felt a little of Palika Bazaar in Athens Flea.
Plaka
Plaka
A little sophisticated than the Pandroussou Street Market yet in the category of Flea is Plaka.Plaka makes a very good walk with ruins surrounding due to its closeness to Acropoli Museum and Acropolis.Plaka is also where you get authentic Greek cotton with Greek Key Print dresses also called
Meander Art
(20 euros) and Greek swollen slippers(9-12 euros).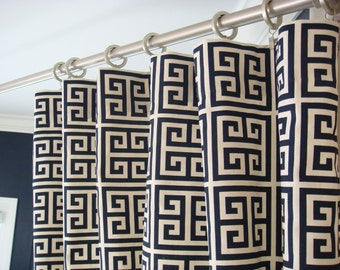 Greek Key Print; Pic Source:
Etsy
Gladiators in Plaka
Greek paintings and Greek souvenirs dominate the market.If you haven't been to Monastiraki, Plaka would then be the only 'FLEA' you get to see.
Syntagma Flea
Syntagma Flea
When there are sales and end of season discounts,you know you are at the right place at the right time.One reason I would say "Heads up" to Greece on summers is because of shopping and new fleas.I wished I came in May-June when the beach parties were on.October end was late,almost winters.Many of the people I met,overlooked this one,which was there for a few days of my visit at Syntagma Square Metro Station(inside the station).Whether it was temporary or happened many times a year,I do not know.But the set-ups looked like they were to last.
The flea market had amazing junk jewelry ranging from 1-10 euros,Greek honey,local Greek packaged food,Freshly made local food and other stuff.If hardly took me an hour to check all,but I got two beautiful rings in my visit.
In defence of Synatgma Square Silent Protest Which didn't disrupt normal routine
Sadly in this trip,my iPhone charger stopped working to which I had to go to Apple store in Athens to exchange after my visit to islands.And they did exchange! So few pictures are missing,but I hope you got the fair idea.
With this,my thirst for shopping came to an end.A little bit of it was also discussed in the first post.For those who are looking to renew their vows or bring in the romance in them again,or celebrate their first honeymoon,there is nothing better than the Greek islands where we go to next.Don't worry we'll come back from ferries and planes and discuss more about history and Athens.Thanks everyone :)